Deprecated: Function get_magic_quotes_gpc() is deprecated in /customers/c/a/2/denlillesorte.org/httpd.www/wp-includes/formatting.php on line 2692
Sort på hvidt i den lille sorte bog. Alt det man ikke har lyst til at vide, og lidt mere.
Det er mig der tegner.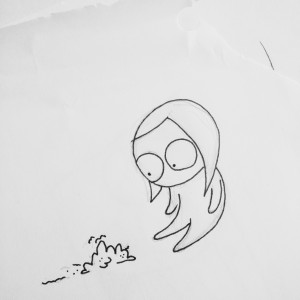 Jeg hedder Kira. Jeg er både cand. mag. i kunsthistorie, hobbyist, horrorfanatiker og en krøllet hjerne. Men det der betyder noget her, er at det er mig der tegner.
Så længe jeg kan huske, har jeg tegnet. Jeg tegnede små anekdoter omkring min familie, siden også om mine venner. I 2011 startede jeg tegnebloggen. Den Lille Sorte er navngivet efter de sorte bøger jeg har tegnet ofte i. Jeg er siden også begyndt at tegne på løst papir, hvilket nu har udviklet sig til bunker af notesbøger og løsark, der venter på en smart arkiveringsløsning.
Den Lille Sorte er stedet hvor jeg tegner store og små ting fra den der hverdag, og det har jeg gjort siden september 2011.
Mine folder bliver slået i Aarhus. Hvis du giver en kop kaffe, siger du til – er altid med på kaffe (eller øl).
Hvis du har lyst til at se, hvad jeg ellers laver, er du hjerteligt velkommen til at besøge mit portfolio, som er lige her.
English version: 
I'm the one who's drawing.
My name is Kira. I've a Masters degree in Art History, I love crafts, horror, and I have a very odd mind. But what matters here is that I'm the one who's drawing.
I've been drawing as long as I can remember. I've drawn a lot of small anecdotes about my family, later also about my friends. In 2011 I began blogging. Funny story – this blog started out as a fashion blog – enter the name which refers to the LBD (Little Black Dress) – which was ridiculous, but luckily the name fitted as I've been drawing in small black notebooks for years. Later I began drawing on loose paper sheets, which now has evolved to massive piles of notebooks and paper waiting for a clever archiving solution. Den Lille Sorte is the place where I illustrate anything from everyday life – and I have been doing that since september 2011.
I live in Aarhus, Denmark. You're always welcome to buy me a cup of coffee (or beer).
If you'd like to see what other stuff I life to do, you're welcome to visit my portfolio right here.