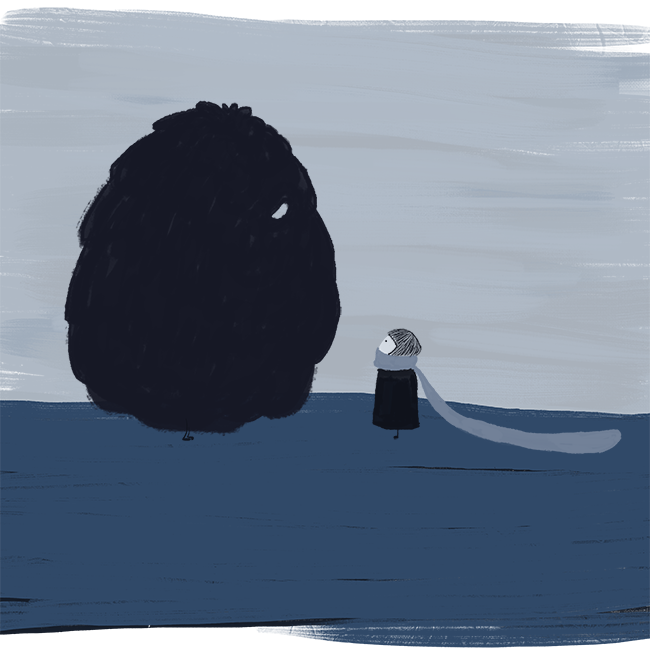 They look each other up and down. The girl tilts her head to the side and ponders over the creature in front of her. It is nothing like anything she has seen in her books. Big and furry. Oddly cut like a huge egg. Sad eyes. Unusually short arms.. You're a peculiar shape, says the little girl at the creature. Well, so are you, replies the creature. True that, agrees the little girl.
They both look to the rabbit, and silently agree that the rabbit looks no different from what you would expect a rabbit to.
**
After a good nights sleep in the fresh air of the night, the three strangers begin to stir amidst unknown flowers and sounds. Both the creature and the girl awake with butterflies in their stomachs – the creature is too curious to feel sad.
The girl leaps to her feet, excited for a new day. So you live here in the forest. You must be forest creatures. I've read about these beings that live in the forest, giants, do you know of them? Are they real? Speaking quickly and almost out of breath, the girls' eyes widen.
The creature and the rabbit eye each other, hesitantly. They are, the creature concedes. The rabbit shrugs. Can we see them? The girl enthusiastically asks.
Fear fills the furry tummy of the creature: Then we would have to go to the Giants Glade. But it's not safe there..
The creature continues to tell the girl things she's read of and more, things that both frighten and excite her. We would have to leave at dusk, the creature explains, casting a glance at the rabbit who's distracted by a withered dandelion. We have to be quiet. They can't see us, let alone touch us. Then we'd be caught in their darkness.
**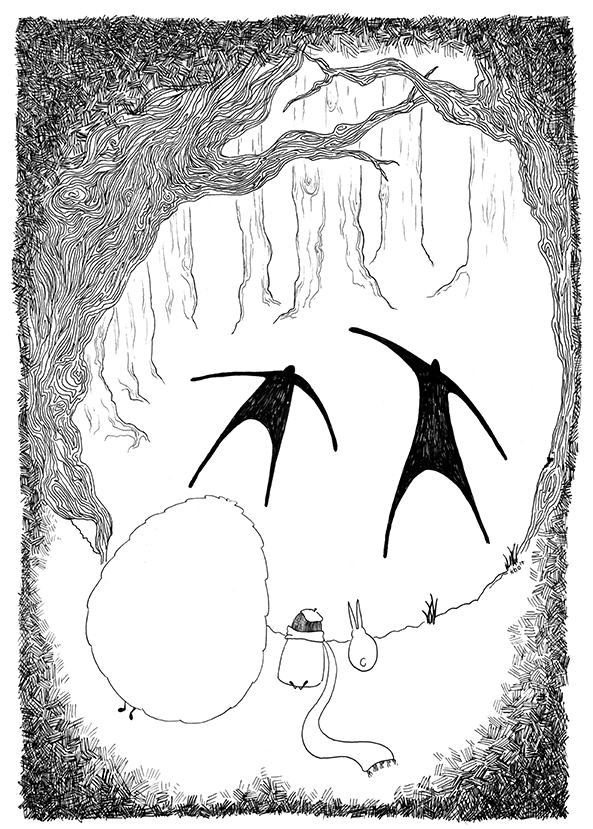 Later that night, on a small bank surrounded by trees, they lie quietly watching the strange dance of the woodland giants. A curious musical noise is coming from the clearing.
The sight is both beautiful and loomingly haunting.
All of a sudden, a crackling above breaks the silence – They all look to the sky. Flapping his wings hastily, the crow is circling hastily above their heads. He caws: Move – you're in danger!